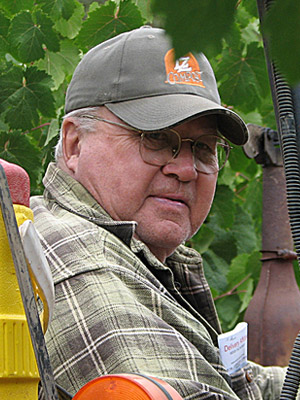 Dr. Tom Kenefick
(1935-2021)
Originally farmers in Ireland, his family settled in the Midwest – first in Iowa and then in Minnesota. While Tom, a third-generation physician, farming was always a source of pride for the family, who valued its legacy of hard work and a closeness with the land. He headed to the University of Minnesota Medical School, after which he conducted his residency at the renowned Mayo Clinic. His training honed his strict attention to detail and disciplined approach, both of which influence Kenefick Ranch's wine 50 years later.
Dr. Kenefick was a practicing neurosurgeon in San Francisco when he first visited the area in 1970 and fell in love with the Napa Valley. Eight years later, he found this remarkable property, a 250-acre Calistoga ranch. Tucked into the foothills of the craggy Palisades, the ranch looked out onto a beautiful valley set within two mountain ranges. Nearly half the property was planted with old Italian varietals that had been head-pruned and dry farmed.
"I must have had a great guardian angel," he remembers, "...I didn't know enough about viticulture at that point to make such a good decision." With a longstanding interest in wines, particularly Bordeaux varietals, he began to pursue his new passion for winegrowing.
His medical training gave him a scientific eye in the vineyard, but it wasn't long before he decided to take viticulture classes at night to learn more about his new profession. He continued to practice neurosurgery, returning to the ranch every weekend over the years to tend his vines.
Kenefick Ranch is more than a vineyard or a ranch. As he continued his successful career as a neurosurgeon during the week in San Francisco, on the weekends, Tom brought his two children here, and they grew up learning about the land. He spent nearly every weekend working on the ranch, from doing tractor work to sulfur-dusting on foot with a backpack to individually budding the vines. Tom lived on the ranch and his hands-on approach drove every aspect of the vineyard operation. He was consistently in the vineyard – inspecting the vines, learning, refining, and improving the process up to his final days.