June 20, 2017 |
Patrick Chapman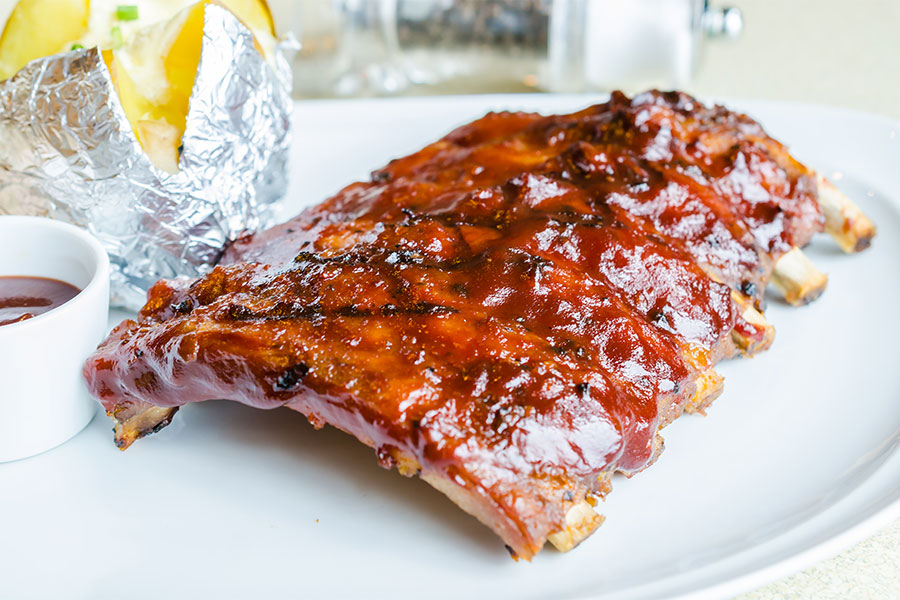 Preparation Time 27 hours
Ingredients
2 cups KR 2012 Petite Sirah
¼ cup olive oil
4 cloves garlic smashed or minced
1 tsp. dried Italian herbs
1 tsp. One Trick Pony BBQ rub from The Spice Tin in Murphys, CA More Info
3 lbs. Pork Babyback Ribs
3 cups Sweet Baby Ray's Sweet n' Spicy BBQ Sauce
Remainder bottle of KR 2012 Petite Sirah
Method
Heat oven at 275 - 300F.
To make the Marinade combine the 2 cups KR 2012 Petite Sirah, olive oil, garlic dried herbs and BBQ rub.
Place ribs in a zip lock freezer bag, add marinade, and place zip lock bag in large shallow dish so that the ribs can be resting in the marinade, then place in the refrigerator. Rotate the bag every few hours so that the marinade can be absorbed by the meat evenly. Marinate 24 hours.
The Next Evening
Place ribs on a baking pan lined with foil, bake at 275 - 300F for 2 ½ hours, turning the ribs over every 20 – 30 mins to evenly cook.
Prep an outdoor BBQ, charcoal or propane, to a low heat (250 – 275F).
After oven cooking the ribs for 2 ½ hours, place the ribs on the outdoor BBQ and brush the bottom side of the ribs with BBQ sauce, after 15 mins flip the ribs and brush the top with BBQ sauce. Continue this for 1 hour – 1 hour 15 mins.
Slice the ribs to individual spare rib portions.
Serve generously with remaining Kenefick Ranch 2012 Petite Sirah.