August 16, 2016 |
Patrick Chapman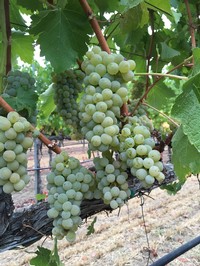 The harvest of 2016 is officially underway! This morning we started harvesting our Sauvignon Blanc which yielded about 16 tons of grapes. Tom, Chris, and winemaker Kent Jarman were on hand and all were saying that the grapes looked and tasted fantastic! Needless to say, this is the most exciting time of the year in Napa Valley because we see all the hard work from the past year finally paying off. The reds have almost fully gone through veraison, the changing of color and full ripening of the grape, and should be following the whites into harvest in the next few weeks.
In late July the Kenefick's took to the road to visit Idaho, Montana, and Wyoming. Starting at the Sun Valley Wine Auction, Tom, Caitlin, and Chris attended the gala dinner on the first night which raised $1.5 million for the Sun Valley Center for the Arts. After the gala, Caitlin and Chris managed to stay awake to close down the dance floor which I'm sure comes as no surprise to those who have met them. From Sun Valley Tom and Chris traveled to Bozeman, Montana for a few days of marketing which included restaurants in Big Sky and Livingston. The next stop on the adventurous road trip was to pick up Tom's new toy, an 18 foot classic wooded canoe, from Swan Lake, Montana. The gentlemen at Morley Cedar Canoes did absolutely amazing work building a custom canoe from scratch for Tom which included the KR emblem on the bow of the canoe. After spending a few days on the cattle ranch in Montana, Tom and Chris started their journey to Jackson Hole for a few days in the market. Jackson Hole has always been one of the locations we are better known in and the boys will most likely be back in January to do some public tasting event. Stay tuned for dates when they get closer!
Although we are starting the busiest time of the year, Team Kenefick is still finding time to get out to events in the area. This coming Friday, Director of Sales Patrick Chapman and Chris Kenefick will be heading to a tasting for internet bloggers in Lodi. Amongst the many celebrations in the Valley that happen this time of year, Kenefick Ranch is excited to be a part of the Calistoga Wine Experience and the Calistoga Harvest Table both taking place in our hometown Calistoga in early September. If you are attending either event on September 10th or 11th, please make sure to stop by the tasting room and say hi!
Salud and here's to a bountiful 2016 harvest!