June 24, 2016 |
Patrick Chapman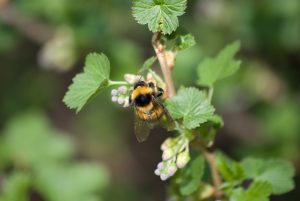 Every vineyard is a unique place, a complex mix of climate, grape varietal, topography, grape growing tradition, and even grower personality. Currently in the vineyard we are doing canopy management – ie: removing leaves from around the bunches and secondary shoots called laterals. This allows more sunlight on the bunches to help with the formation of full flavor profile at harvest time. We also hedge the rows to eliminate excess shoot growth which helps eliminate grassy flavors in the wine. Grape flowers are beginning to form on the vines and if pollinated correctly will provide a grape in the right conditions. Pollen grains from the male (stamons) will drift over to these bean-bag like ovaries 1/8" away and, wah laa, grapes are formed. As these grape bunches form we'll constantly monitor their growth and the vines balance to harvest.
Tom & Chris recently held a winemaker dinner at the San Francisco Yacht Club in Belvedere. This is the club that Tom raced a Soling for 15 years and the family still has a cruising sailboat in the harbor. The dinner had beautiful food pairings with four of our ranch wines (Pickett Road White, Sauvignon Blanc, Cabernet Franc & Pickett Road Red) as well as the two Kenefick 'halo's - Founder's Reserve and Doctor's Cuvée. The Founder's Reserve was recently awarded a gold medal & the Doctor's Cuvée a silver medal, in the San Francisco International Wine Competition. SINCE ITS INTRODUCTION in 1980, the (SFIWC) has been setting the standard for professional wine judging.
Tom is attending the annual meeting of the Neurological Society of America being held at the Powerscourt Hotel in Dublin, Ireland and then leading a group of 10 neurosurgeons and wives. On a 3 day tour & tasting journey to Bordeaux. Chateau Rothschild and Chateau Latour being two of the more noted stops. There's a Kenefick connection here. . .Chateau Latour, who, in 2013, purchased our across the street neighbor's, Araujo Estate (now re-named Eisele Vineyard Estate), is in contract with us for Kenefick Ranch fruit.
On the marketing front we'll be pouring our wines at the Oakland Wine Festival on Saturday, July 16th at Sequoyah Country Club in Oakland, CA. Visit www.oaklandwinefestival.com for more information. Tom, Caitlin & Chris are scheduled to participate in the Sun Valley Wine Auction on July 21-23rd. If you are attending be sure to come by our table. Additional information? www.sunvalleycenter.org/wineauction.
---
Calistoga Wine Experience Saturday, September 10, 2016
Join us for an afternoon

in the park

Enjoy wine from
30+ Calistoga wineries

Sample culinary delights by local
Chef Rick Warkel

Listen to live music by award-winning
Hot Club of San Francisco
1pm - 5pm
Pioneer Park in
Downtown Calistoga