February 2, 2017 |
Patrick Chapman
We have seen quite the flurry of activity in the last month on the property with California receiving a record setting amount of rain! The good news is that we managed to stay as dry as possible and even with all the flooding in the Valley, we received no damage on our property in Calistoga. We did have quite a bit of standing water in certain places in the vineyard, however this drained off fairly quickly and we saw no damage to the vines. The good news is that now all of our reservoirs are full so we will have plenty of water to irrigate for the whole year ahead.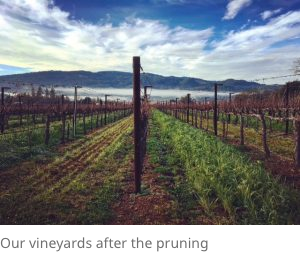 After harvest, we seed every other row with a soil erosion mixture, which is a fast growing grass like rye, and the alternative rows are seeded with soil builders (legumes) to add nitrogen and potassium back into the soil. With all the rain, these soil additions are growing quite rapidly and we will soon mow them down and disk them into the soil. During this time of year, we are also checking all of our wind machines to make sure they are ready for frost protection.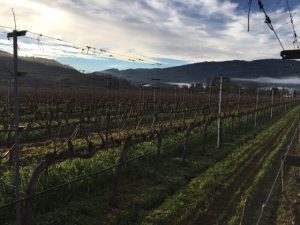 Currently on the vineyard, we have just finished our pre-pruning and we are getting started on the actual pruning process. There are many reasons why we like to pre-prune our vines, but mainly it gives our crew the opportunity to clean up the vineyard and to make the pruning process a little easier. By pre-pruning, it also cuts down on the amount of time that the trimmed vine is exposed which, if exposed too long, could lead to disease getting into the vine. When our crew goes through to do the actual pruning, they are able to concentrate more on the small section of vine that is left to make sure they are making a proper cut.
The winery has seen a great January as well. Kenefick Ranch had the opportunity to welcome in the newest member to our family, Kristina King. Kristina came to us with an immense background in the Direct to Consumer market and will be overseeing our Wine Club as well as being the main point of contact in the office. Chris Kenefick made a long road trip into the Rockies to visit Sun Valley and Jackson Hole during a large snow storm in both locations. Although the trip went well and the wine was well received, Chris had to make sure he bundled up as he encountered temperatures that reached 16 degrees Fahrenheit. He sure was happy to make it back to warm California with all his fingers and toes!