January 25, 2018 |
Kristina King
Happy New Year!
We are looking forward to what 2018 will bring and are pleased to say goodbye to 2017. While the 2017 harvest was smooth and steady, the year ended with the scary and in some cases, tragedy, caused by the multiple wildfires in October. Calistoga and the entire Napa Valley has been recovering and are ready for your visit.
Now on to Vineyard Happenings..
This month the stellar and amazing crew have been pre-pruning the vineyards.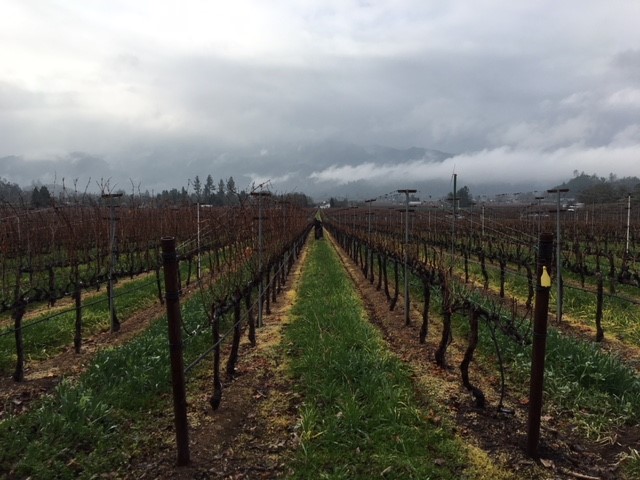 Left side of image shows unpruned vines; the right side pre-pruned
Each year, the vineyard team works through the entire 125 acres of estate vineyards and starts the pruning process. They work block by block. The prepruning helps not only the crew to make a more precise cut with the final pruning, (by removing the extra cane), but also helps to prevent eutypa. This is an airborne virus that attaches itself to the open cout and works into the cane of the vine. The process of movement through the cane is slow and does not reach its ultimate target - the branch, before the final pruning. With the final pruning, we also seal the new cut to prevent any further progress. Another plus for breaking up the pruning process is that the final pruning sets back budbreak, which can give you about two more weeks of frost protection. And with the weather not always being certain, this definitely helps!