August 3, 2016 | Patrick Chapman
Kenefick Tri-Tip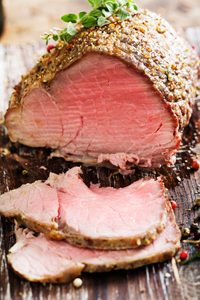 3-4 lbs. tri-tip roast
4 garlic cloves, very thinly sliced
1/3 cup of kosher salt
1/3 cup black pepper
1/3 cup garlic salt
1 Tablespoon of Oregano
Using a sharp knife, cut small slits into the top of the roast. Stuff the slits with the thinly sliced garlic.
Mix together salt, pepper, garlic salt and oregano. Cover the entire tri-tip with the rub. Refrigerate for at least an hour. Take the meat out of the fridge 20 minutes before grilling.
Preheat an outdoor grill for high heat.
Place the meat directly above the flame for 5-10 minutes per side (depending on your desired doneness) to sear the meat and lock in the juices.
Turn the grill down to medium heat and continue to cook for another 25-30 minutes (depending on desired doneness, thermometer should read at least 145 degrees F for medium rare). Let stand, covered loosely with foil for five minutes before slicing.
Serve with your favorite Kenefick red wine.